GREAT STRAIT SALE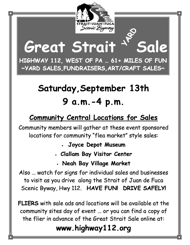 Download and print the 2014 flyer (pdf)
Sample ad flyer (pdf)
Great Strait Sale
The Juan de Fuca Scenic Byway Association is sponsoring the seventh annual Great Strait Sale, a 61-mile yard sale on Highway 112, Saturday, September 13th from 9 a.m. to 4 p.m.
Sande Balch, event chairman, encourages people to participate by having private or neighborhood yard sales or by bringing sales to the community sites at the Joyce Depot Museum parking lot, the Clallam Bay Visitor Center (next to the Clallam County Park) or the Village Market in Neah Bay (next to Washburn's General Store). Balch says, "The annual Great Strait Sale continues to grow in the number of sellers and buyers. The nicer the weather, the more people turn out for the event. In general, we want to invite all of our neighbors to this event for block-party fun while the sellers make a little money and the buyers find some treasures."
A flyer with map and sale ads will be published to guide buyers to the sales. All the information will be on the website by early September at www.highway112.org. The printed flyer will be available at CoCo's Market (formerly Wagner's on Hwy 101 just east of the junction with Hwy 112) the week before and at the community sites the day of the event. The cost of listing a sale or fundraiser in the flyer is $10. The deadline to submit an ad for the flyer is August 25th.
To sign up for a Great Strait Sale listing in the flyer or for other questions, please contact Sande Balch at sandrabalch@olypen.com.